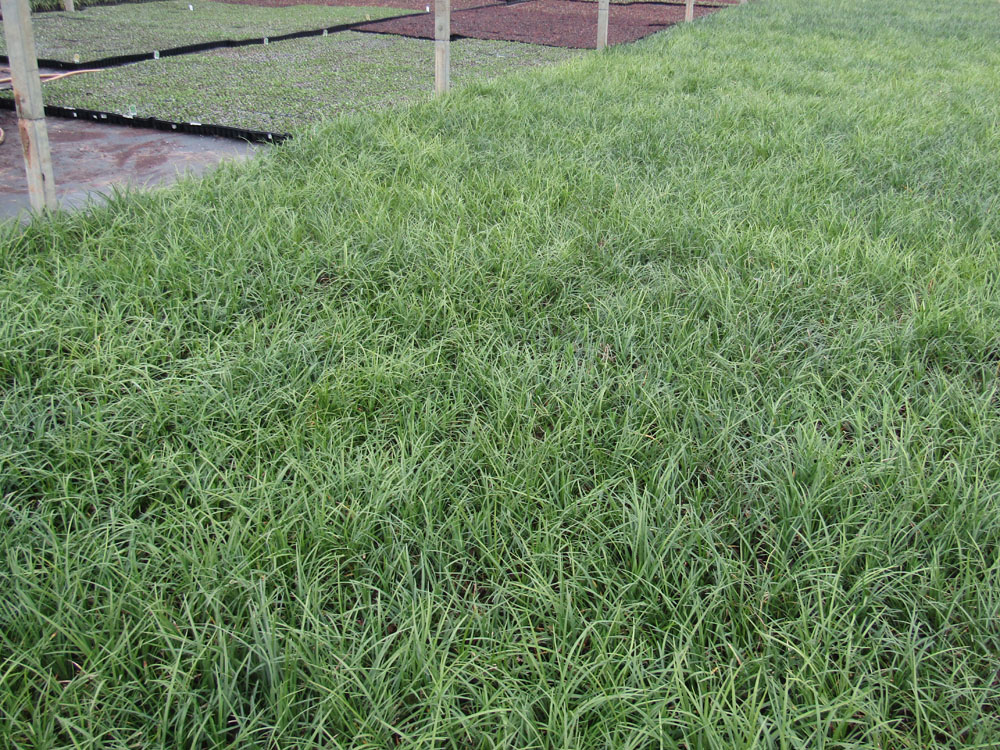 One would think, would they not, that anyone in the groundcover business would be chary of bringing up the delicate subject of weeds.  I may regret it by the end of this blog, but for now it seems like the right thing to do.  It all started with the May/June 2020 edition of "Horticulture" Magazine, The Art & Science of Smart Gardening.  This is a full-color glossy bimonthly magazine put out by something called hortmag.com and published by Active Interest Media out of Boulder, Colorado so we have no idea what organization is behind it.  There are lots of advertisements in it which appear to be directed at the general gardening public.  Most of the articles are written by people who know what they are doing.
And so I was, the other day, reading (or more likely leafing through looking at the pictures) this issue when I found the article "Tread Lightly, A cautionary tale of five tough, low plants for walkable spaces".  And what could be the problem with that, shades of the once very popular Stepables ™ program that we got a lot of mileage out of until the concept was copied by every other nursery who tacked their own proprietary name on it.  The first two sentences got me: "There are five types of nearly flat plants in my garden.  Each one suppresses weeds like a champ, remains durable under foot and returns year after year with no tending of fuss."  Better yet, there was a big photo of a yard full of moss right across from an equally big photo of common liverwort (Marchantia polymorpha).  Then we learned more than we needed to know about these primitive, tough, non-vascular plants.
The author, a gardener, had a shady yard area that she quit mulching one year and these plants started growing.  After a few years of hand pulling weeds, these plants suppressed the weeds and their seedlings and became her lawn.  It is one of her favorite places.  Here, at Twixwood, we have had some interesting (and you can insert your own favorite euphemism here) discussions about moss and liverwort.  We do a winter propagation program of Liriope spicata and for two reasons—we have the labor force available in the winter and we always need more Liriope.  Therefore, in the winter it is always cool but warm enough for some things to grow and the soil media is always damp because it never dries out in our cloudy winter-time climate on this side of the lake.  Therefore, come spring, the Liriope pots are covered with moss or liverwort and some of the workers here at the nursery consider these plants to be weeds and are insistent on the workers at the location that I supervise directly pulling or scraping off all of these little things, which, if done carefully would double the production cost and so I have been telling them that these are not weeds and everyone else here dissents.  Reminding them who owns the nursery has not been successful.  They somehow got the impression that they were hired to think and make decisions for themselves.  I am wondering why a smart guy like me would have ever made that mistake.
If these Liriope plants were being sold at the retail level then I could understand the cosmetic problem with moss and liverwort, but they are universally sold to the landscape trade where they are not used as accent plants but planted en masse.  And usually mulched after installation and very shortly after that they are filled in thickly by the rhizomes that proliferate with this plant, which is why it is used a lot and the moss and liverwort disappear in the shade and the excitement of growing Liriope.
Therefore, I am hoping that everyone, when ordering this plant, will inform the sales/order taker personages that they (you) will not complain about the moss/liverwort infestation and to ship away.
The author mentions some small creeping herbaceous potentilla as being good and then a couple of classical groundcover plants as being bad.  One bad plant that she is always battling in her garden is Sedum sarmentosum which comes with two great common names—Stringy Stonecrop and Graveyard Moss.  Besides having many long runners, it is a bright yellow-green color looking chlorotic all the time.  This was a big seller when my parents were starting out 52 years ago.  Times have changed.  Mostly what has changed is that people have developed good taste.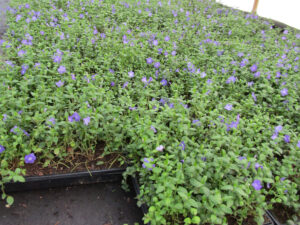 The other plant that the author does not like is Vinca minor and that is because it, likewise, has crept into her garden from the neighbor's planting.  Usually periwinkle is planted in shady parts of the yard where grass does not grow enthusiastically and so it is easily contained by the power lawn mower and is not a problem.  At least it does not spread by seeds.  So, I do not consider it to be invasive.  I consider it to be one of the classic groundcovers—it has dark green glossy evergreen foliage, it grows about six inches tall, it fills in thickly keeping out weeds and their seedlings, it grows in the shade where grass does not grow, and it grows on steep hillsides where lawnmowers do not go.  Right by our house we have a south-sloping hill that supports a thirty-five-year-old bed of Vinca minor 'Bowles', and it is nearly perfect and has nice big blue blooms in the springtime.