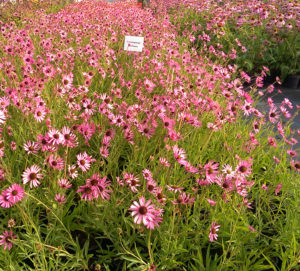 This is being written in the last week in April and we have had and extraordinarily cool spring, meaning that we will have good orchard crops here in this part of the world as the blooms are held back, thus not being susceptible to late frosts.   And so the other day I was out picking daffodils for Dianne and we will not discuss the reasons why I would feel the need to go out and freeze my fingers picking flowers for her, although I will try to behave better in the future.  The double row of daffodils was planted fortuitously next to a row of Prunus Okame; fortuitously because they both bloom at the same time, the one shocking pink and the other startling sunshine yellow.  We do not know if this is the kind of color combination that people with good taste would aim for; we just know that after a long hard and cloudy winter, any color is appreciated.  I have all kinds of rows of Prunus x. incamp 'Okame' planted around because I had read in one of the nursery magazines that it was the ideal perfect small tree.  No one told me that it was a Zone 6B plant and when it got colder than 15 degrees below zero the flower buds froze and it did not bloom one little bit the next spring.  Most of the time it is spectacular here where we live.
I am reminded of a few other color combinations that I had discovered in the same field, equally by accident.  One was a row of Echinacea tennesseensis planted in front of a row of Caryoperis x. clandonensis  'Arthur Simmonds', almost shocking pink in front of a deep blue.  This brand of Echinacea has a very long bloom period.  When planting it keep in mind that the flowers are heliotropic , except that they are not really, I just wanted to use a big word here.  They always face the east all day long.  But the most gaudy and accidental of all color combinations occurred when I planted some 450 foot long rows of Lavendula 'Hidcote' next to rows of 'Stella de Oro'.  These bloom at the same time and are spectacular for several years until the Stellas crowd out and stop blooming and the Lavender gets old and starts to get woody and die out.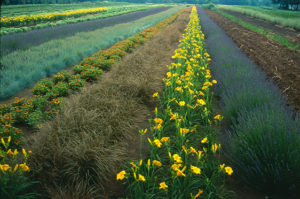 Anyhow, that was not the reason for writing this story.  The reason was the whole bunch of low growing nearly round glossy green leaves of a plant growing among the daffodils.  I had almost forgotten about Senecio aureus, Golden ragwort or Heart-leaved Groundsel, and the person who told me that I would get rich growing that plant.  At one time we were on the edge of new perennial introductions.  We grew some for Wayside Gardens, the famous mail-order catalog people, and we rubbed shoulders with Wolfgang Oehme of the Oehme, van Sweden landscaping firm, the very same people who invented the Great American Garden and strewed great swathes of Pennisetums, Rudbeckia 'Goldstrums', and Sedums 'Autumn Joy' all over Washington D.C.  This was the antithesis of what Roy Diblik is doing nowadays, but how were we to know, we will grow plants for anyone.  Oehme, van Sweden did some landscape designs for rich Chicago people along the Lake Michigan dunes—those of us who are native to this part of Michigan have to look at pictures to see what the lake looks like.  There were some more or less native plant installations.  The really good thing about these people is the fact that they charged so much for the design work that people listened to them when they told the customer that the landscaping would look terrible the first year after installation.  We should all convince the customer that they really should wait a year before passing judgement on a landscape.  The local landscaper doing the installations was our long-time customer and so we custom grew for these jobs for a few years.
So, Wolfgang told us to grow lots of this Senecio aureus.  It grows in the shade and for a couple of weeks out of the year it makes a very bright yellow splash in the shade.  After that there are ugly seed heads followed by a nice green groundcover effect.  We did not get rich.  He talked us into planting a row of Senecio doria that was even a worse looking plant as it was taller and so its ugliness could be seen from further away.  But what really got me was Silphium perfoliatum, Cup Plant.  The book says that this plant gets six feet tall.  That is incorrect.  In rich soil and with some fertilizer it gets at least ten feet tall and has huge leaves.  We continued to not get rich.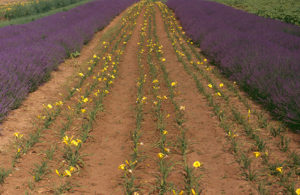 It appears that at one time Oprah had an 80 acre estate in the LaPorte, Indiana area way out in the country and she gave Oehme, van Sweden the commission.  One needs a huge and coarse leafed plant to make any kind of a show when the garden is a quarter mile wide and a half mile deep.  The problem is that there are few rich people who want to buy farms and landscape them, so the market is limited for this Cup Plant thing.  Wolfgang did tell us about  Polygonum polymorphum, now called Persicaria polymorpha.  This large white flowered plant gets to be five feet tall where it makes a statement.  At one time it was Wolfgang's favorite plant of all time.  We do not find it to be invasive at all.  We like it because it is easy to propagate.  We wish it sold better.
And so we have had many adventures here in the wholesale nursery business.  We have been told many stories.  I have believed most of them.  I continue, every year, looking for the next hot plant, the one that no one else is growing, the one that we have enough stock of to cover the earth.  In the meantime we will grow millions of pachysandra each year, keeping our crew in training to take and stick cuttings and our propagators in training to adjust the mist timers properly and our construction staff hard at work maintaining the structures and watering systems.  I am doing my part to be able to enjoy the fruits of this mythical future magic plant discovery by eating tofu so as to be able to live a long  time.