Well, The Frost is On the Punkin
Man, isn't this a great time of year? The kids are back in school… Football on the T.V… Things are slowing down a bit… Beautiful Fall sunrises & sunsets! For the most part, the weather has been good… no big droughts for the Midwest this year. Actually, with all the late Summer rains we've had around here, I've seen mosquitoes the size of sparrows!
Anyway, in walking around the Nursery today I couldn't help but notice that there are a lot of great looking Ornamental Grasses in #1 through #3 sizes and most or all of them are sending up their blooms & plumes; they really look nice right now. The Fall blooming varieties of groundcover like Ceratostigma (Plumbago) with it's bright blue flowers and Fallopia with its pink & fleecy blooms are looking quite stellar too. Not to mention things like Liriope, which we have in a variety of sizes, as well as all the groundcover Standards like Pachysandra, Ajuga, Euonymus and Ivy.
I also want to let all our pick-up customers know that we'll be closing the Sales Yard for the season in another few weeks but before we do, we're going to have a sale, so we don't have as much stuff to set back down for the Winter. Please feel free to give us a call for the weekly percentage off anything and everything in the Yard. We'll start off with 25% off and see where things go from there.
For those of you that are wondering what Tom Kimmel has been up to… he just wrapped up another successful annual meeting of the Steam Automobile Club of America, which was held here in Berrien Springs this past weekend. He had folks from all over the US and even had one gentleman show up all the way from Scotland! Tom said the group has about 450 members currently. I included a photo of him standing in a field of grasses out behind his place for those of you taht may have forgotten what he looks like.
Lastly, our 2007 Catalog is in the works and should be ready to go out before the Holiday season. Between now and then please feel free to give us a call for a quote or better yet, to place an order. I took a peek at the weather and I don't see any frost in the forecast for us for a while, so it's still a great time to do some planting before the snow comes.
Thanks for the business this season. We truly appreciate it!
By Jon Konya
Sales Manager
Echinacea, The Garden Hedgehog
The Greek word for hedgehog is echinos, which is an excellent description of the seed heads of Echinacea that persist in the garden late into the winter. When the petals are all gone the seed head looks like a tiny hedgehog on top of the old flower stalk. Echinacea blooms from mid summer on into fall, long after the spring rush of flowers that signal the end of another winter. It is one of the best perennials for late summer display. Here at the nursery we get to see beautiful flower displays of Echinacea that start in July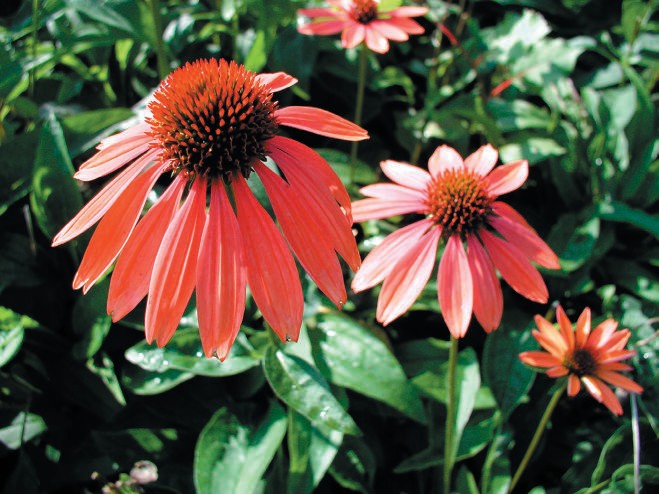 and last to September. They grow best in open, sunny spots and do very well in those hot, drier spots in the garden. Please note that they do not like heavy soils or poorly drained soils, but they will take a little shade.
Echinacea purpurea is one of our better perennials and it has become even better thanks to some imaginative breeders. Over the past decade, breeders have been crossing and hybridizing our native species with selected garden varieties of purple Echnicadea and now they have introduced many new cultivars with new flower colors and growth habits. We list 26 cultivars of Echinacea in our inventory, many of them new introductions that have impressed us with new colors we have not seen before in Echinacea.
One of the best of these breakthrough introductions is Echinacea 'Orange Meadowbright', also known as 'Art's Pride', hybridized by Dr. Jim Ault of the Chicago Botanical Gardens. 'Orange Meadowbright' is a coppery orange coneflower that grows 2 to 3 feet tall. Kim Hawks of Chapel Hill, NC gave us 'Kim's Knee High', a compact Echinacea with rose to purple-pink flowers, and 'Kim's Mop Head', a white version of Knee High. Richard Saul of Itsaul Nursery in Atlanta has introduced the Big Sky Series of Echinacea which are fragrant. 'Sunrise' has an orange-green cone and yellow petals that will remind you of Coreopsis 'Moonbeam'. 'Sunset' has orange-copper petals. 'Harvest Moon' has golden yellow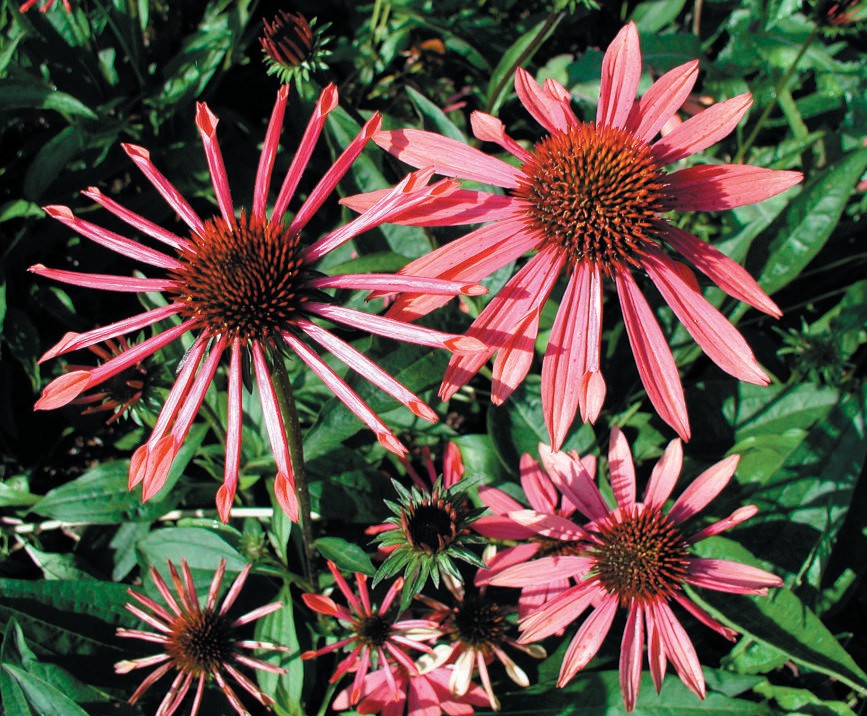 petals and 'Sundown rusty red to orange petals. Dan Heims introduced 'Fancy Frills' which has soft pink frilly petals and large disc that remind you of a pink sunflower. The variety 'Jade' has white petals tipped with green and a green eye, very different from the old standard purple coneflower. With all this breeding work comes a price. These are all patented plants, vegetative propagation is restricted, and their royalties mean they command premium pricing. A new variety with beautiful soft pink petals called 'Hope' is dedicated to helping breast cancer survivors and 25 cents of the royalty for every plant sold goes to the Susan G. Komen Breast Cancer Foundation.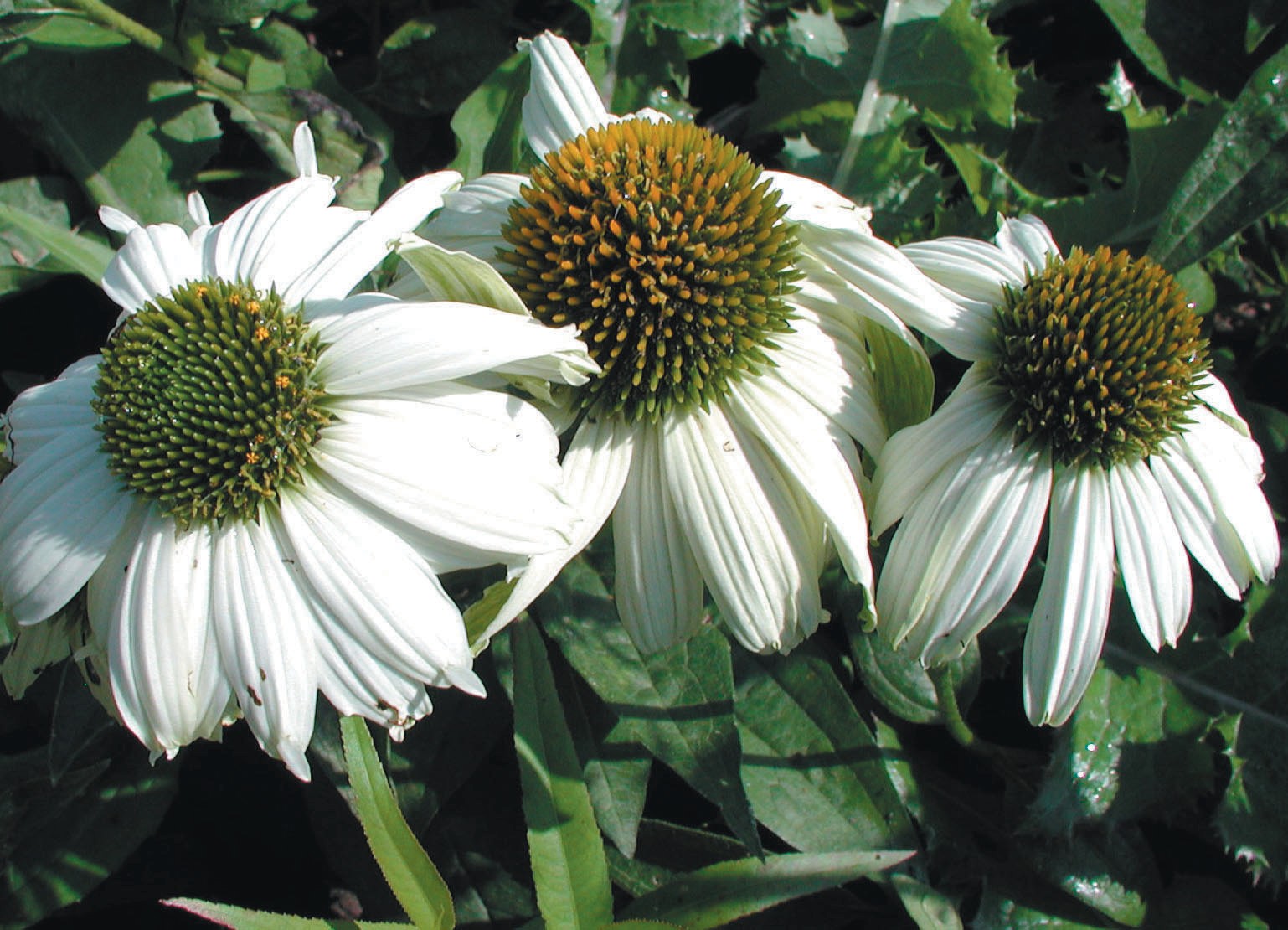 For those who like to put in masses of color, the many seed grown varieties offer great value for summer color. The varieties we do from seed do not have the range of color that these brand new hybrids have but they do offer an improved selection over the native purple-flowered Echinacea purpurea. The variety 'Magnus' grows 2 to 3 feet tall and has the best rose pink flowers that are broad and non-drooping. It is the classic example of an Echinacea. 'Doubledecker' has a slightly unusual flower. It has two tiers of rosy pink petals, one around the base of the central cone and a smaller ring of petals on the top of the cone. Not all 'Doubledecker' flowers have this characteristic, smaller younger flowers are often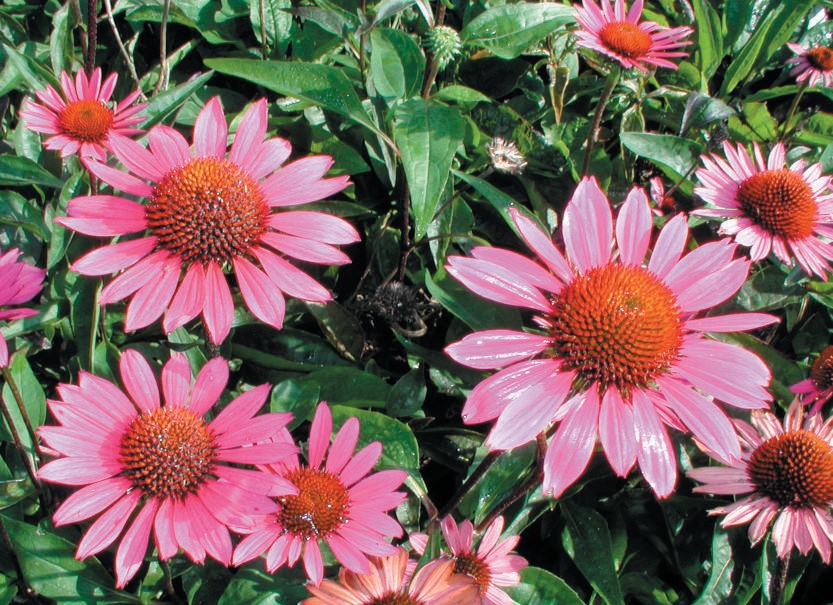 singles. 'Ruby Star', or 'Rubinstern', is very similar in habit and flower structure to 'Magnus' except that 'Ruby Star' has darker, more magenta-red flowers. 'White Swan' is the best white flowering Echinacea. It has pure white petals that reflect down in the classic coneflower shape.
All these Echinacea are excellent as cut flowers as well as a wonderful show in the garden. They are hardy from USDA zone 8 to zone 3. Establish them in average soils or even in marginal soils that are well drained, and they will do well. Remember they have all been bred and selected from some of our toughest and prettiest native wild flowers. The breeding work that has started the hybridizing craze in the Echinacea genus will continue to give us new flower colors in the Garden Hedgehog for many years.
Ornamental Grasses
Ornamental grasses are a great element for any landscape. They can be filler plants or prominent accents in the garden. They grow well in rich garden soils, but most are very tolerant of poorer soils and cultural conditions that are not suitable for many of our other garden plants. They also require less maintenance than most plants. When planted in mass plantings many varieties are very effective at erosion control. The plumes of many of the ornamental grasses are quite beautiful in dried arrangements or just as attractive when left in the garden late into fall and winter. When the wind blows and the plumes and leaves sway in the breeze it adds an element of movement to the garden that other ornamental perennials do not provide. And with most grass descriptions you will find the notation "no known pests or problems."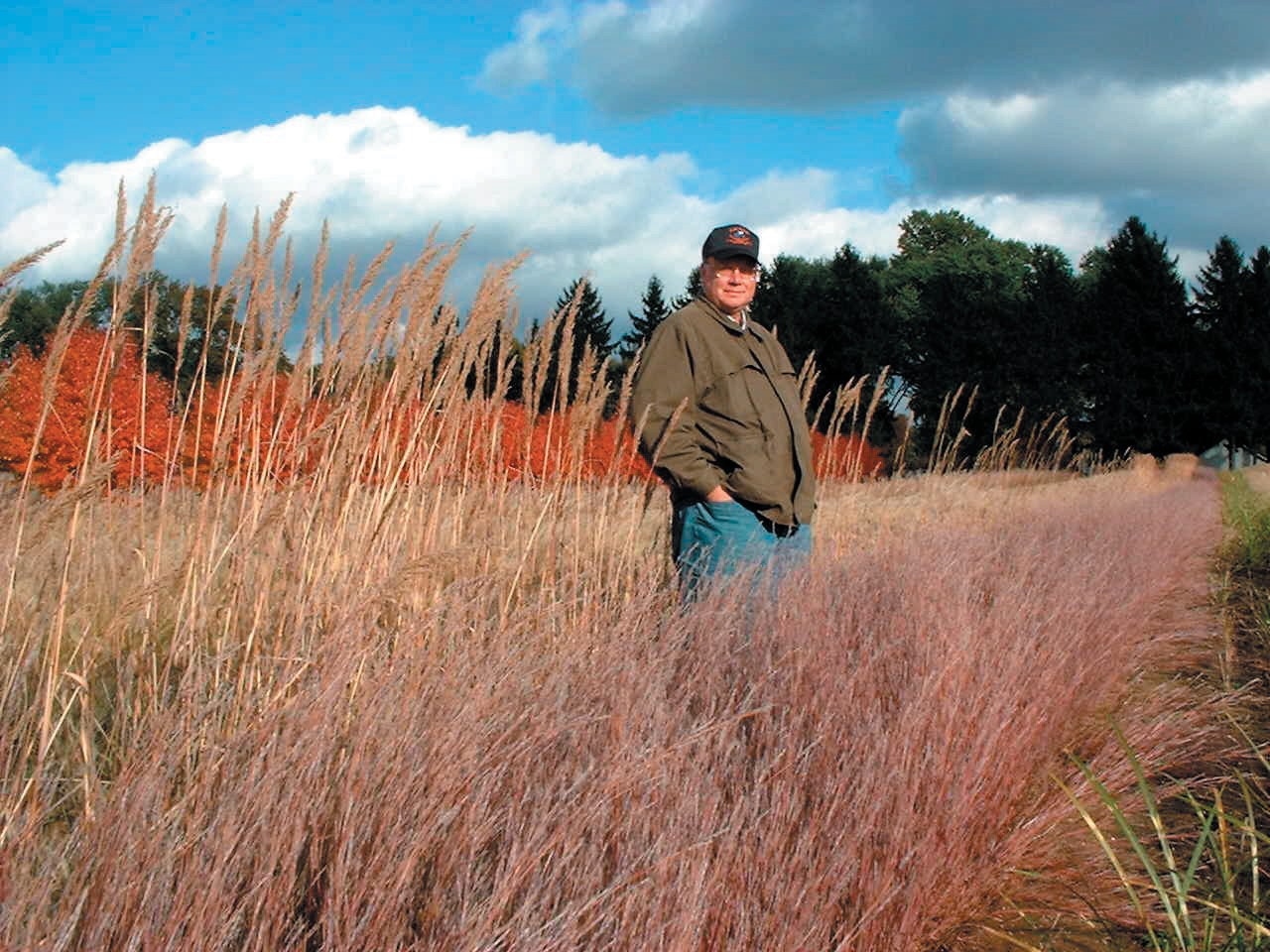 When buying grasses beware that garden centers offer annual grasses along witht heir offering of other flowering annuals. These grasses are excellent garden annuals; the best example is the Purple Fountain Grass, Pennisetum setaceum 'Rubrum'. But they will not be winter hardy, just like the other flowering annuals. There are many great Fountain Grasses that are perfectly hardy. Pennisetum alopecuroides 'Hameln' is a dark green compact form of Fountain Grass that grows best in zones 8 to 5. Its fine textured foliage grows 2 to 3 feet tall with tufted bottle-brush plumes in late summer. The Feather Reed Grasses or Calamagrostis, have a slightly stiffer, upright habit. The variet 'Karl Foerster' is the most common example of Calamagrostis in the trade.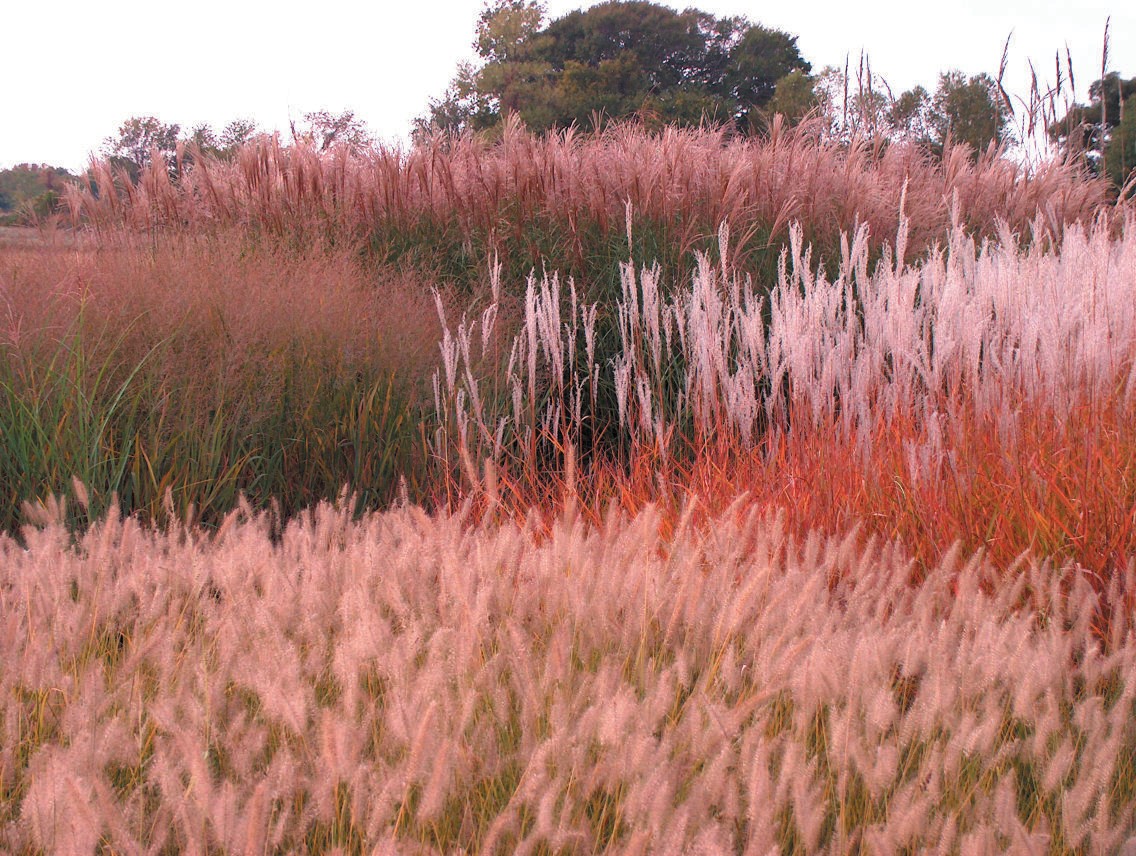 In areas that need a naturalized look in a transition area from the garden to a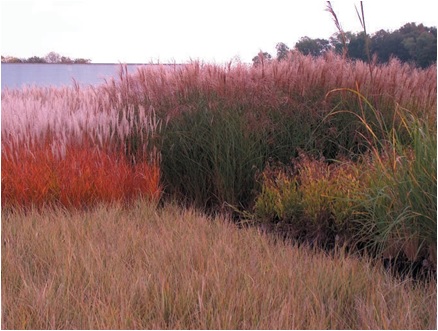 meadow or pasture, Big Blue Stem, Andropogon gerardii, and Little Blue Stem, Schizachyrium scoparium, are native grasses of the American prairie and open woodlands that work well. Tehy are upright, clumping, warm season grasses that tolerate either moist or dry areas. Little Blue Stem grows on average about 3 feet tall with green to gray-blue summer foliage and in the fall it turns a bronze to burnt orange and this color can persist until the snow flies.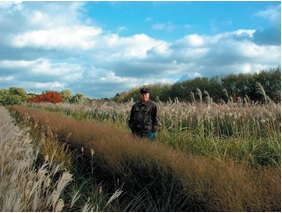 For shear diversity of cultivars Miscanthus sinensis varieties provide us with a wide range of heights and forms. We lsit 17 cultivars in the catalog our of the 24 cultivars we grow. The smallest varieties of Miscanthus are about 3 feet tall while the largest varieties grow to 8 feet or more. Miscanthus 'Little Dot' grows 3 to 4 feet and is one of the smaller varieties that have banded variegation on the spiky foliage. 'Morning Light' grows about 4 to 5 feet, with fine wispy silvery foliage. 'Autumn Red' grows about 4 feet tall and turns a brilliant reddish orange color in the fall. Miscanthus cultivars are some of the most ornamentally desirable grasses with their many forms and textures. They are well suited to water gardens and along ponds or in large plantings along drives or roadways or one plant can stand alone as focal point in the landscape.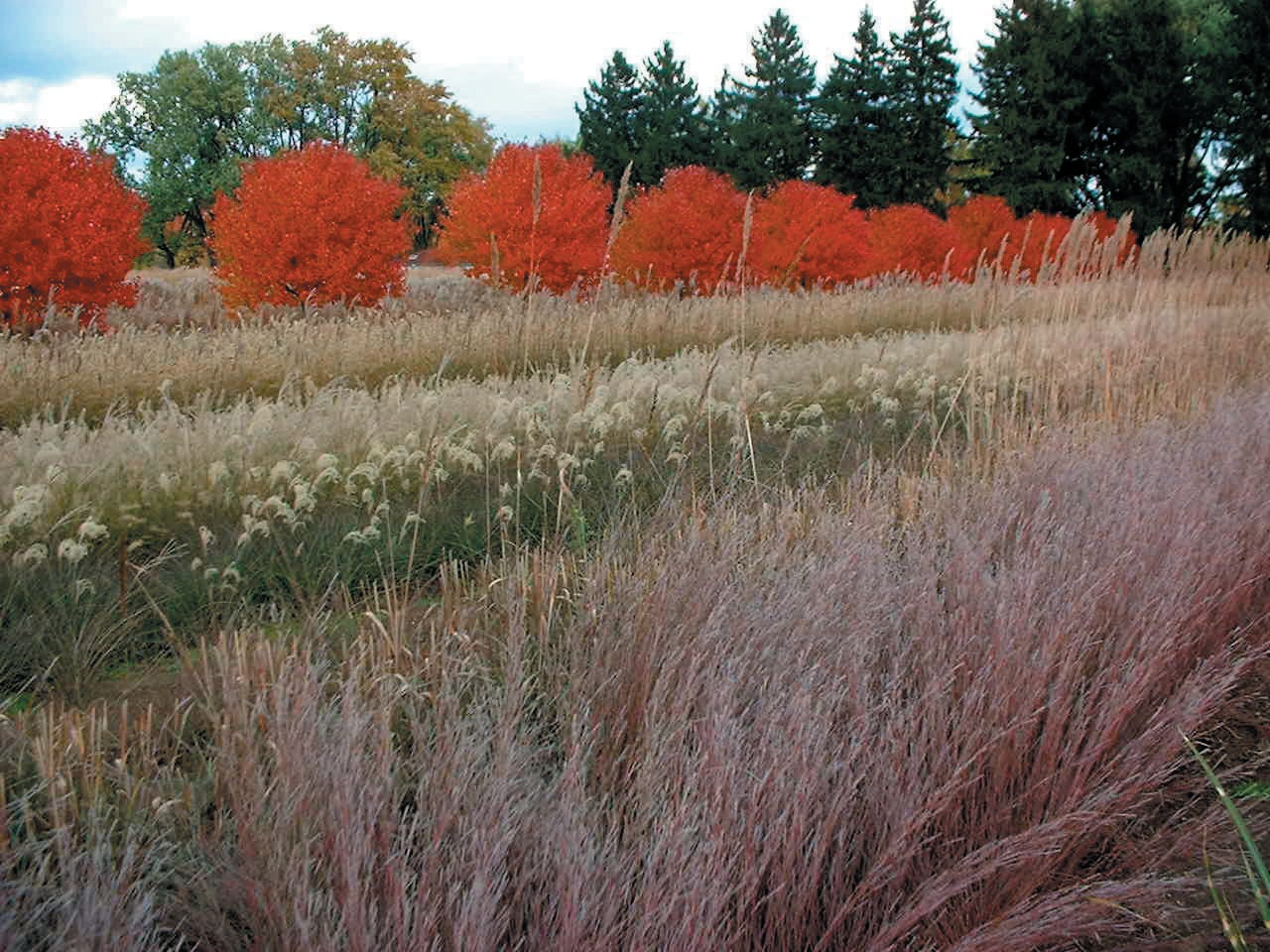 In the fall when many perennials in the garden have lost their luster and are starting to decline, grasses are starting to show their stuff. Because almost no diseases bother the grasses their foliage is about at its best as summer slips into fall. With the addition of the seed heads and plumes swaying above the foliage, grasses become a very prominent visual element in the landscape in September.
By Stephen MacDonald
Twixwood Nursery Grower