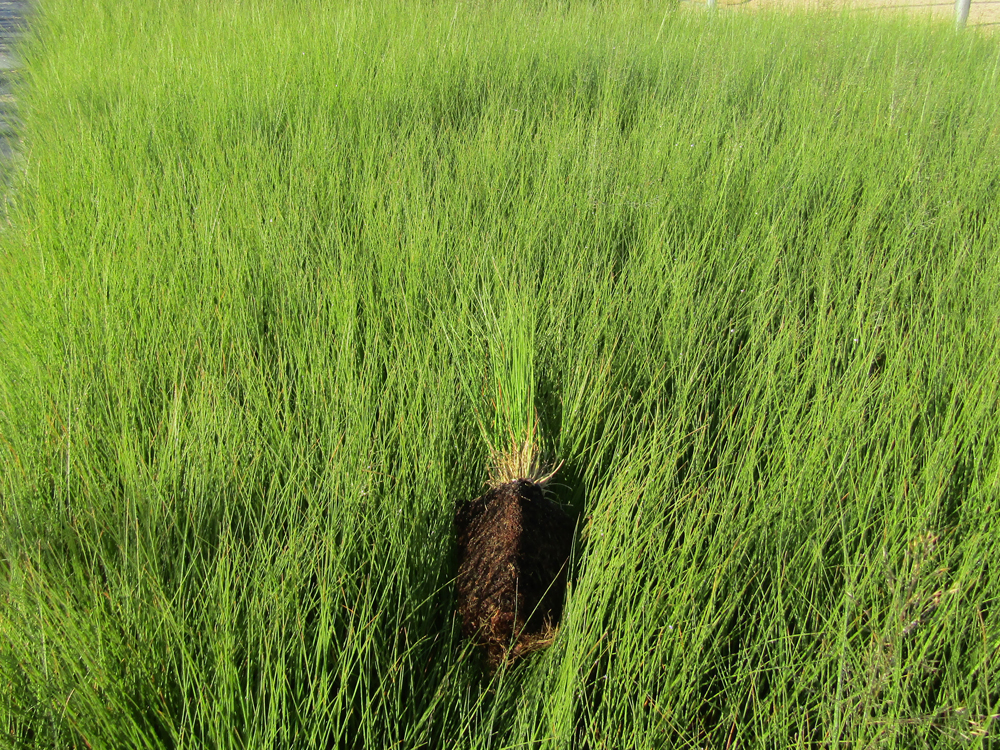 And I should say mostly Sporobolus heterolepis liners and specifically S. 'Tara' liners of which we have 20,000 2 ½" pots all ready to go and maybe not too root bound.  I am too busy writing these things to go out and look.  That is 700 flats of the 32 count SVDs.  I remember a few years ago when every landscape designer specified 'Tara' and we did not know how to propagate it (it does not grow from seed).  I am so happy to be successful at 'Tara' production that it is consistently being over-produced.  It is a fine plant with a distinct seed head and needs to be specced much more often.
In the interests of symmetry we have 40,000 SVDs of the regular seed produced S. heterolepis, Prairie Dropseed or Northern Dropseed to those non-Linnaean binomial nomenclature people.  What I really want to sell is 500 flats of the shorty 50 count plug tray of the S. heterolepis which I made in a moment of irrationality because we were out of the favored and easier to sell deep fifty plugs that day.  You may be able to make some kind of a deal with Homer, our sales manager and computer person and production scheduler, because he would like to get rid of them and he is not emotionally attached to them as I am.  In fact, Homer is quite cold-blooded when it comes to making rational decisions.  I could go on.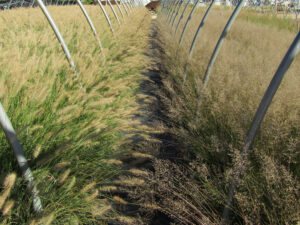 We have other grass liners and you can ask for the comprehensive list which is two pages long.  For now I want to mention lots of Calamagrostis 'Karl Foerster' in both the 3 ½" 18 count and the deep 50 count plug tray and 12,000 Panicum 'Shenandoah' in the 3 ½" 18 count tray.  Because we were short once about fifteen years ago I always over-produce Pennisetum 'Hameln'—lots of the 50 deep plug and the 3 ½" liner.  There is my favorite Pennisetum—the 'Piglet' PP19074 which is more dwarfer and not named to sell.
Without going into details we have Carex 'Ice Dance', Eragrostis spectabilis, Panicum 'Ruby Ribbons 'RR1' PP17944, seedling Schizachyrium scoparium, and Sesleria autumnalis.
We have all kinds of these grasses in one and three gallon pots.  We like to ship them this time of the year because we have plenty of available trucking.  These things take up all kinds of volume.  We also like to sell liners which are denser and more valuable by volume so that you can grow your own containers.  We are not too proud to sell liners to our colleagues in the perennial container business.  What many people learn when growing their own grass containers is all about what kinds of winter temperatures the roots can take before dying.  As a rule the native prairie grasses are tougher in the winter while the other ones need some kind of poly house or minimum heat protection.  Sometimes the learning process is expensive.  Some winters it is more expensive than others.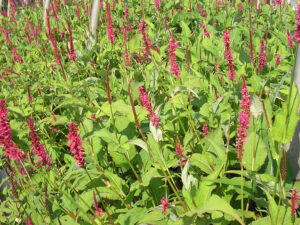 And now for the fun stuff.  I have hidden away in the corner a thousand or so gallons each of Persicaria amplexicaulis 'Firetail' and Persicaria polymorpha that have cleverly escaped the inventory people.  At least the inventory people have not listed them as saleable—they are in the special collection category.  Let me be clear; at this stage in my life I am more interested in selling than in collecting, so make inquiries of the sales personages.  As for habits, the polymorpha is big and over-powering in a small garden.  It requires an estate with some distance between the viewer and the plant.  The 'Firetail' has the best every deep red pipe-stem kind of a bloom rising above the plant on slender, nearly invisible, scapes.  It blooms for months in the late summer and fall.  It works best in mass and also while the foliage is hidden by shorter plants.  Because neither of these plants bloom in the spring they will never be found in the Big Box garden centers.  Those people all want short and gaudy, like dianthus and iberis that ethical landscape designers do not put in the plan.  In the spring we are so over-dazed by flowering crabs and weeping almonds that we can barely stagger around.  It is in the late summer and fall that we want to see some blooms and color and preferably tall plants so that those of us who are older and less flexible do not have to stoop over to admire the plants.  Keep working.